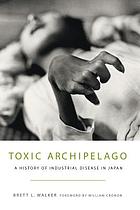 Editors' Note: This is a Korean translation of a Teach 3.11 annotation. We invite volunteers to translate and/or contribute content in Korean, Japanese, and Chinese languages. Thank you. (한국어, 일본어, 중국어로 기존의 내용을 번역하거나 새로운 내용을 기고할 자원활동가를 찾고 있습니다.)
Walker, Brett. 2010. Toxic Archipelago: A History of Industrial Disease in Japan. University of Washington Press.
브렛 워커. 2010. <유독한 열도: 일본 산업병의 역사>. 워싱턴 대학 출판부.
이 책은 국가와 고통과 산업공해 사이의 다면적인 관계를 혁신적이고 이해하기 쉬운 이야기로 담아내고 있다. 브렛 워커(Brett Walker)는 일본 역사에서 잘 알려져 있는 메이지 시대 아시오 구리광산 오염사건과 전후에 일어난 미나마타병과 이타이 이타이 ("아프다 아프다")병의 발병과 같은 사건에 대한 새로운 해석을 제공한다. 그의 핵심 개념인 "혼합 인과관계(hybrid causation)"는 "인간의 정치, 경제, 기술, 그리고 문화가 환경 오염과 산업 질병에 끼치는 영향"의 복잡성을 드러내기 위하여, "자연적"인 요소와 "사회적" 혹은 "인간적" 요소들이 원인을 제공하는 과정들의 구분을 약화시킨다(xiv쪽). 이와 같이 학자들이 따로 연구했을 법한 이슈들을 의도적으로 조합하여, 저자의 이야기는 대단히 광범위하게 확장된다. 이에 준비되지 않은 독자들은 처음에 갈피를 못 잡을 수도 있으나, 다양한 사례들을 포함하고 있는 워커의 접근법은 학생들이 산업 공해에 대하여 맥락화된 역사적 이해를 하고자 할 때 이용할 수 있는 다양한 분석 각도를 배울 수 있도록 도움으로써 교육적인 가치를 지닌다.
워커가 관찰한 미국과 일본의 환경철학의 전통의 차이는 매우 흥미롭다. 그에 의하면, 이 차이점이 1967년 통과된 일본의 공해대책기본법의 문구에 영향을 끼쳤다. 그는 일본의 법은 "대자연"(wilderness)이 아니라 "생활 환경"(生活 環境, seikatsu kankyō)을 대상으로 하고 있음을 지적하였다. 전자는 "인간이 없는 곳을 상징한다"면 후자는 "인간 거주와 가장 밀접하게 연관되어 있는 경관과 생물체들로 구성되어 있다"(217쪽). 비록 저자가 "혼합 인과관계"와 명백한 연결을 짓고 있지는 않지만, 일본의 개념은 이 책에 소개되어 있는 역사적 사건들로부터 받은 교훈들을 부분적으로 학습한 것이라고 주장한다. 아마 가장 논란의 여지가 많은 – 그렇기 때문에 학생들의 토론을 불러일으키는 데 유용한 – 점은 저자가 가지고 있는 미래의 환경 문제에 대한 다소 우울한 관점이다. 그는 이렇게 적고 있다: "나는 하나의 종(species)으로서 우리가 이와 같은 문제들을 당장 해결할 수 있을 것이라고 생각하지 않는다. 아마 전혀 해결할 수 없을지도 모른다"(223쪽).
2010년에 출간된 이 책에는 당연히 2011년에 일어난 재난에 대한 언급은 없지만, "혼합 인과관계"가 주는 함의는 분명히 산업 공해의 범주를 벗어나서 핵 사고와 소위 "자연" 재해라고 불리는 것의 영역에까지 확장된다. 특히 대학의 학부 수업의 읽기 자료로 강하게 권장한다.
- Yoshiyuki Kikuchi. Translation by YeonSil Kang